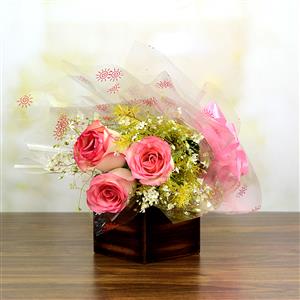 Ornamental Rose Decorative Pot
Let the art of sending presents to India be a piece of cake with this ornamental pot of roses. the pot consists of three pink roses which are neatly arranged in a bunch. These have also been graciously decorated with greenery and fillers. The pot itself has a nice wood texture and looks amazing in its shiny appeal.Be it your family member, or your friend, or someone you know formally, this ornamental rose pot is the perfect gift that you can trust to be a heart winner.
Shipping Info:Delivered on the date specified by you.
Color:
N/A
Price :

299/S$ 5.86

Quantity :
Shipping :
- FREE -
:: More in this Category ::